As we continue to have issues of geography here in Southeast Florida, this article continues to be a "pen-pal" relationship for the fleet. Bruce and Carol Hagreen, Symphony, #248, continue to be our far ranging cruisers. They will cruise south during the winter and they venture north as far as Maine when the weather turns warmer.
Pat and I, along with fellow LLC members Christeen and Franco continue to day-sail Esprit du Vent. When your boat is as old as ours, you are continuously upgrading and repairing. Franco has been replacing corroded wire connectors such that circuits get back to normal voltages. I recently replaced the two jib sheet track cars. The boat sports new hatch covers. We designed our own cover for the forward hatch after hearing that no one sells a cover that fits.
Paul Chasse, Cheerios #1282, sent along his Christmas card shown here. While Christmas has long past as you read this article, the idea of printing note paper with an image of your boat can be a nice touch for you old-timers who still use the USPS. Paul notes that even though the Mk II is fairly young, it too has entered into the period of constant maintenance. In addition to repairs, Cheerios now sports a brand new dodger.
Marc Wosar, Epione #1537, has been doing some thinking about making the fleet useful. He suggests that we can perform a benefit for C34 owners by assembling local knowledge and sharing it. For example he states: "I know most every nook and cranny of upper Biscayne Bay, but don't know anything about sailing up the coast or across to the Bahamas. There are plenty of cruising guides out there, but none tailored to the characteristics of the C34, like draft limitations, speed, etc. I suggest each member put down some of their 'local knowledge' and distribute it, forming a C34-specific cruising guide."
As always, if any of you get down to Southeast Florida, be sure to look us up.
Robert Schuldenfrei, Esprit du Vent #422
18 OCT 2016
We are trying to integrate the old news stories with the new format using WordPress.  This is a test image from our founding party in 2013.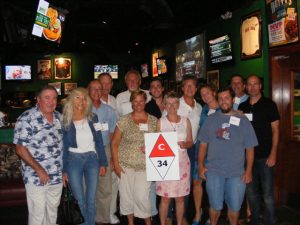 Last changed:  10/18/16