Aft Locker Refit - Mk I
Jump to navigation
Jump to search
Aft Locker Refit
by Steve Dolling BlackDragon #804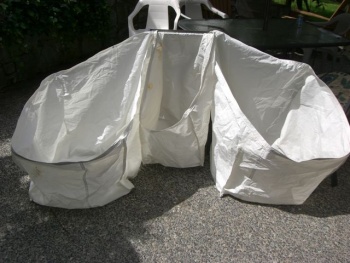 I'm not sure Catalina had their best guy on the job when they designed the aft locker on the MKI. There was an oversized shelf hammered together with common nails and a propane locker designed to block access to all space. I decided it was time to refit the space.
I used an old sail to create a number of bags to organize the space. Catalina left through bolts at the hull deck joint. I simply joined the bags along the transom and sides with wing nuts through gromets on the bags. Snaps join the front edge of the bag to a reduced sized shelf over the quadrant.
Underneath the bags there is still plenty of room for storage. Those old halyards are there. Along with a couple of prawn traps and several hundred feet of anchor rode and chain along with a 33lb claw anchor. The bitter end goes around the rudder shaft. In the bags there is plenty of room to store fenders along with a 100 cone series drogue and danforth anchor. Plenty of stopping power. I have a full sized ditch bag with EPIRB, water etc.
There is still a ton of room to store the life raft along with a half dozen bags of garbage. Now everything can go in and smoothly without any snags.

I just realized I didn't explain the real function of the bags in the aft locker. They aren't just to keep things looking tidy. They provide separation between bits of gear and divide the locker up horizontally and vertically. So now if I want to deploy the stern anchor in a hurry, I undo two snaps, grab the anchor and throw it over. All the chain and nylon rode are lying on the bottom of the locker, but they easily pay out between the bags. They don't snag on the prawn trap or get caught in the flukes of the Danforth. Similarly if I want to deploy the drogue, I pull out bridle lines aft around the rails around the cleats and to the winches and throw the Danforth overboard and string out 260 feet of 5/8 line with cones. So the locker reorg was as much a safety thing as a storage and organizational exercise.
You can't remove the shelf. It's there to keep things from getting stuck in the quadrant. I found it overhung the quadrant by a couple of inches aft and on the sides by an inch a half in total. So I trimmed it back to size while still keeping the protection for the quadrant.
Once you remove the propane locker and trim the shelf it's amazing how much space is there. I have everything I want stored and I still have room for plenty more.