Removable Galley Counter-Top Shelf
Here's a sturdy galley counter-top shelf for small plug-in electric appliances (toasters, coffee makers, etc.) designed so as to allow continued access to the ice box / refrigerator while freeing up counter-top space. The shelf can be left in place for other items (fruit bowls, flowers, etc.), or removed and its legs folded for storage when not needed (Admiral's choice).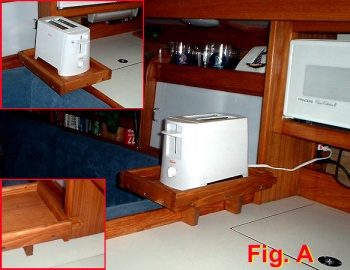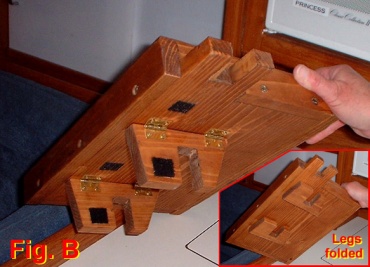 Overview of shelf in use showing legs / supports straddling counter-top fiddle and the shelf "tongue" gripping the galley cabinet bulkhead.
Materials: piece of ¾" pine stock (approximately 35" x 8"), 11 brass screws, 4 brass 1" hinges, 3" Velcro strip (self-adhering "sticky" type), plus stain &/or stain-varnish.
Click any schematic to enlarge