Outhaul Repair
My outhaul seems to have frozen up. It seems to be catching somewhere within the boom, I think on the gooseneck side. Has anyone had this problem?
Bob K
---
My outhaul was really tight after sitting all winter. I left it unsecured when we were out sailing a few weeks back and the force on the clew finally streched it out so it was functional again. If you've never had your boom open, here's a good link that shows what it looks like: http://share.shutterfly.com/share/received/welcome.sfly?fid=6bb992b59dfecd87&sid=1AasmrRk0cMXFg, go to image 109 plus the next few. Tom Sokoloski upgraded his outhaul to 5:1 from the stock 3:1, but the setup is the same. I upgraded mine to 5:1 as well and ran the line back to a Spinlock powercleat at the cabin top. It's made it a viable sail control.
Craig Illman, Espresso #1150, Seattle
---
The same thing happend to mine 2-3 years ago. Line inside boom was hard and twisted and would not move through blocks. I replaced with new larger blocks including double blocks with beckets to increase purchase. Also eliminated the swivel block design to get rid of twisting. If you rig properly, you will not get any twist. I spent money to use quality blocks as this is an area that gets no maintenance but can be a real problem if you cannot smoothly and easily control the outhaul.
Sorry I don't have better details or pics. I think if you follow all links and study the rigging when you remove, you will see how to improve.
One note: tie messenger line to wire end (clew ) of outhaul so you can pull everything back in when you finish. Not a hard job.
Jim Price
---
I just changed the purchase inside the boom over winter. both end sheaves were cracked and the 2 blocks inside were a 2:1 purchase,useless. switched to a 3:1 setup ordering new #20 series blocks from garhauer, and new sheaves from cat. direct. didn't see the need for a 5:1 setup. also replaces the line and steel cable. made one mistake in that i got 20' of 1/4" line, should have got at least 25'. steel cable only goes about 1/2 way to the mast, no big deal. also remember to apply a little never-seeze to end caps when you reinstall and a little white grease to sheaves.
Jeff Kaplan
---
The Manual, at http://www.c34.org/manuals/1988/1988-C34-Owners.pdf, page 27 shows the original outhaul design.
Stu Jackson
---
Another outhaul diagram from Dave Davis: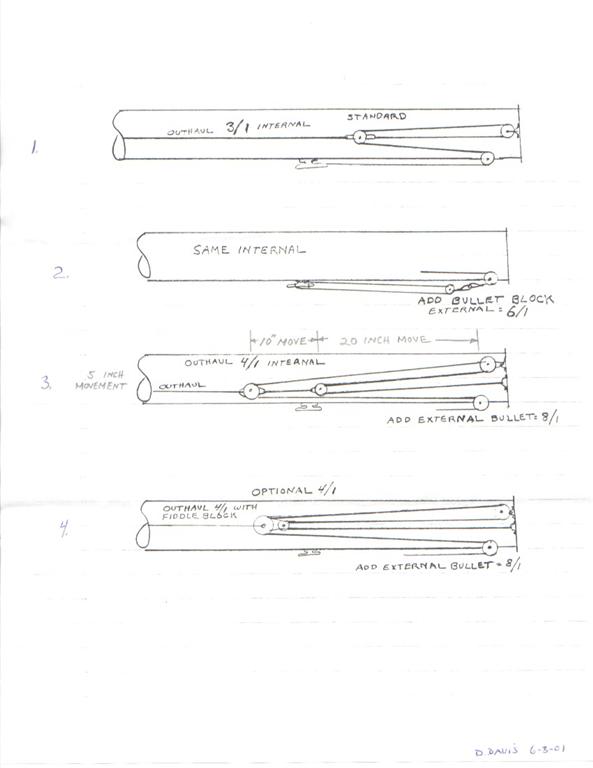 Stu Jackson