CNG Refill Adapter
PLEASE SEE DISCUSSIONS BELOW THAT ADD TO THE ORIGINAL TEXT MATERIAL
A home made adapter to refill your CNG tanks.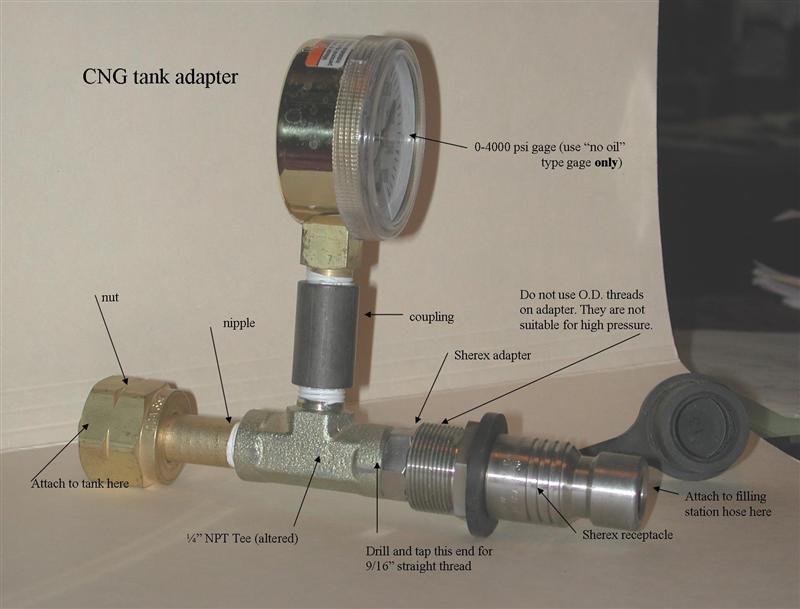 Parts list.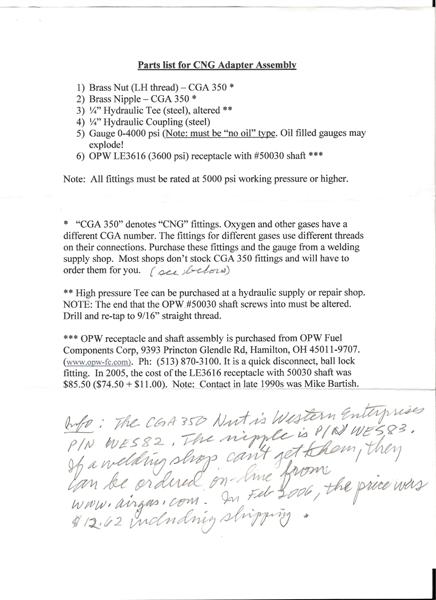 Tank Refilling Directions.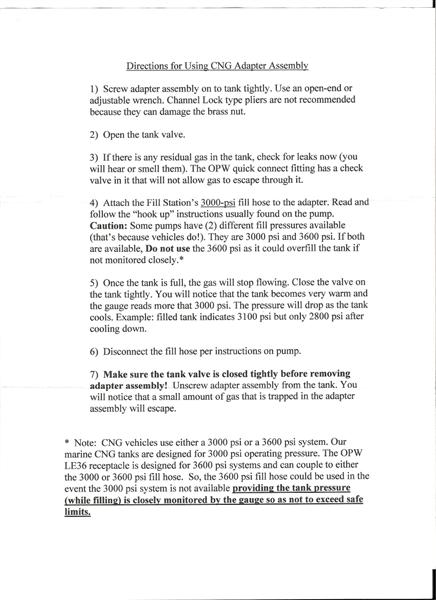 Added May 1, 2015, from Steve Dion, co.com:
Stu: Just a heads up for you and anyone else that is interested in building a manifold. Some of the fill stations have changed the Sherex and the part needs to be replaced. The stations may now only have 3600 PSI fill fittings.
Added Aug. 25, 2015 from a discussion on co.com (Stu) and thanks to Guenter Retkowski (#153, "Seaclypse") --- A great discussion of tank volume & ABYC stuff: http://forums.catalina.sailboatowners.com/showthread.php?t=168890
Added Feb. 2, 2015 from a discussion on co.com (Stu)
http://forums.catalina.sailboatowners.com/showthread.php?p=1182617&highlight=cng
Here is the latest info, from my build.
However, I must caution you that you should have some understanding about gas laws, pressure and mechanics. If not, get it from the suppliers, or just buy the refilled cylinders. While this is safe if you follow safety rules (as long as you fill only to the rating of your pressure vessel and the adapter parts) it can also be lethal if not assembled properly and used properly.
I give no warranty to the safety or acceptability of the parts listed below. I will post a photo of the gizmo tonight.
Parts list for CNG Adapter 1) brass nut (LH thread) CGA 350 NPT 2) Brass nipple CGA 350 3) hydraulic Tee high pressure** 1/4 inch (5000 PSI) 4) gage 0-4000 psi (Note: must be not oil type. Oil filled gauges may explode) 4.5) Needle valve (rated to 5000 PSI) to control fill and reduce pressure fill in tank 5) NGV1 Sherex/OPW LE-36 (3600 psi) receptacle 6) Adapter joins Sherex /OPW to Tee. The thread on the Sherex end must be 9/16 straight thread. Note: all fittings must be rated at 5000 (preferably 10,000) psi working pressure or higher. More is better.
Sources: High Pressure: Thread Adapter & needle valve, hydraulic Tee high pressure Hydraulics & Pneumatics, Inc. (505) 884-1110 3207 Claremont Avenue Northeast Albuquerque, NM 87107
Argyle welding: gauge, brass nut CGA 350, Brass nipple CGA 350 1575 Candelaria Blvd, NE Albuquerque, NM 87197 Phone: (505) 345-8101
Sherex/OPW LE-36 (3600 psi) Manufacture specifications: http://www.opwglobal.com/Product.aspx?pid=145 Actual Source/distributor: http://westechequipment.com/product/...185_2588_2592&
CGA 350 denotes CNG fittings. Oxygen and other gases have a different CGA number. The fittings for different gases use different threads on their connections. Purchase these fittings and the gauge from a welding supply shop. Total cost = $20.00. Most shops don't stock CGA 350 fittings and will have to order them for you.
High pressure Tee can be purchased at a hydraulic marine supply or repair shop. Cost = $8.00.
Adapter can also be purchased from a Marine hydraulic. The problem of refilling these tanks using any CNG vehicle refueling pump is the fact that CNG powered vehicles are designed with SAE straight thread fittings. Our tanks are designed with NPT pipe thread fittings. This adapter (actually, the Tee) joins these two different thread styles together.
"Live in the sunshine, Swim in the sea, Drink the wild air. " -- Ralph Waldo Emerson
Last edited by Steverhnm; 02-02-2015 at 04:23 pm.