Propane Locker Mk1.5
Jump to navigation
Jump to search
Ken & Vicki Juul, #1090 "Luna Loca"
I have been unhappy with the original small propane tank, it just does not have enough capacity. This coupled with the requirement for the OFP valve was the catalyst for upgrade. I was originally going to use Ron Hill's plans, but his plans use a short squat 11# bottle that will not fit in the available space, so I modified them as follows.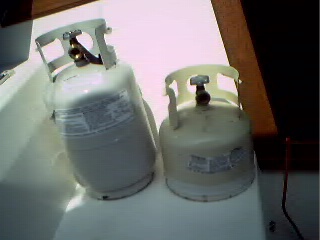 I used the taller thinner 10# bottle.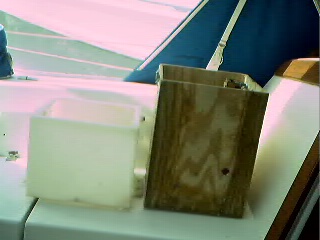 Using ¼" plywood I constructed a square box with interior dimensions of 115/8"x 115/8"x17".
To insure an airtight box, in addition to nails, I used glue (Liquid Nails) on all seams and applied silicone caulk to all inside joints. I fiberglassed the outside of all joints for additional strength and sealing. I transferred all the plumbing/fittings from the original locker to the new locker and used the original lid.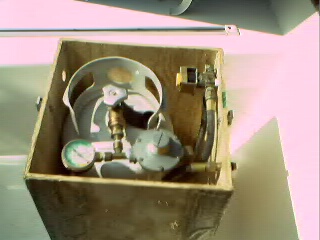 The edges of the opening into the lazarette needed to be expanded slightly by removing the interior lip.


The hatch does not rest on this lip, so the seat integrity is not altered. Next the platform must be lowered to allow room for the taller box. I originally thought this would be hard, but the shelf is held on by a couple dabs of glue and short staples. A couple yanks and it easily came off. I used a sabre saw to shorten the support sides by 5 1/2". Glued and screwed the original shelf back onto the shortened supports. The new box is then lowered into the lazarette, vent lines, electric lines and propane lines attached. I used screws with sealer in the holes to attach the box onto the support shelf.
Because the tank is taller, the lower vent was placed on the side of the box at the same level as the thru hull outlet. This put the vent about 6" above the bottom of the box. I used expanding insulating/sealing foam to fill the bottom of the box up to the vent level. This will ensure any leaks flow overboard rather than puddling in the bottom of the box. The foam is extremely sticky. I wrapped the bottom of the bottle in saran wrap to make the first removal of the bottle easier. The foam dries hard, so after the first removal, the plastic wrap will not be required.
Approximate cost including the new bottle (filled) was $90. It took approximately 2 hours to construct the box at home, and 4-5 hours to install on the boat including a couple trips to the local hardware store for new fittings. The foam takes about an hour to expand, so part of the installation time can be spent on other chores. All in all a great weekend project.